Melbourne SEO Courses
We've just introduced some new dates for SEO courses in Melbourne. Fully refreshed, revised and current study modules that reflect the best search engine optimisation methods in use today. Enhance your organic online presence. Develop a website enhancement strategy at our practical workshop.
Classes are small- for tightly focused discussion and individual attention. Material is designed in order to provide students with the opportunity to gain an understanding of the theory behind achieving high Google rank for keywords.
There are sessions for all levels of SEO practitioners- from complete novices to advanced professionals. We regularly train marketing interns, brand managers, content writers, copy writers and digital agency staff.
Attendees receive customised notes, to guide them on making improvements to their website. The notes will be written on the day, in conjunction with a practical demonstration of how to:
spot faults;
develop the scope of works for improvement;
set expectations
undertake the work required
brief and work with developers
assess progress
Melbourne's Next SEO Group Class
The next search engine optimisation class will be on Tuesday 12th December 2023.
It commences at 10:00, and concludes at 14:00.
The level of training is beginner SEO.
A breakout session will be held for "Beginner Plus" level students.
The cost is $580 including GST and the breakout session is an extra $120. The breakout session starts at 3pm, and ends at 4pm. You must attend the beginner session in order to qualify for the breakout class.
If you would like to know more, simply call 03 9554 3279 to check availability- and to secure your place. Classes are limited to 3 participants only, for a better learning experience.
We will show you the techniques used to gain page 1 rankings, with simple, easy instructions you can take away and use on any web site the same day.
Our curriculum is modeled on the material taught at SEO Melbourne Academy. The lessons will help you if you sell products online, book professional services, or have a website which acts as a portal for a brand, or group of companies.
See below for an overview of the three main levels.
---
Beginner SEO Course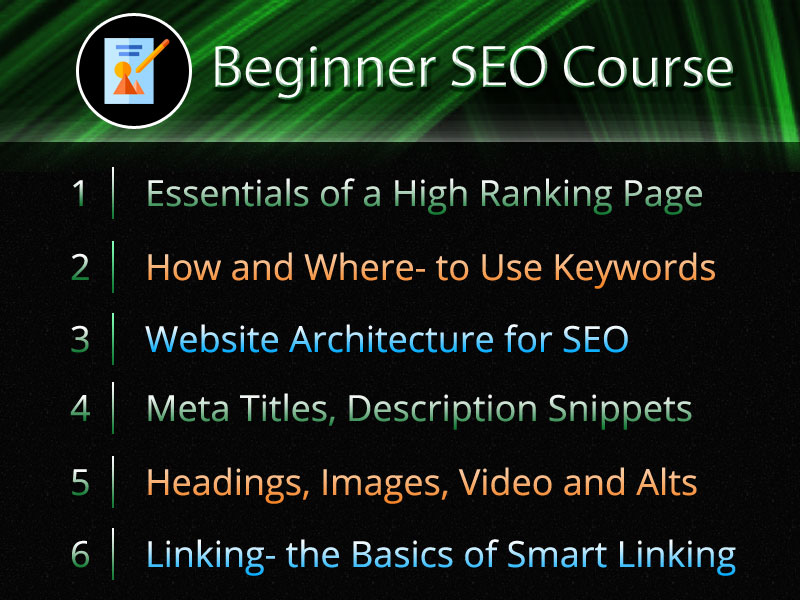 This level is the one we recommend for digital marketers, internal SEO staff who manage a business website or three.
Small business owners who are non-technical- yet comfortable with WordPress edits- and who can grasp SEO basics should attend this class.
The syllabus includes many essential on page items- focusing on content essentials.
The emphasis is on the website itself- this is where the biggest gains- or losses- are made.
---
Intermediate SEO Course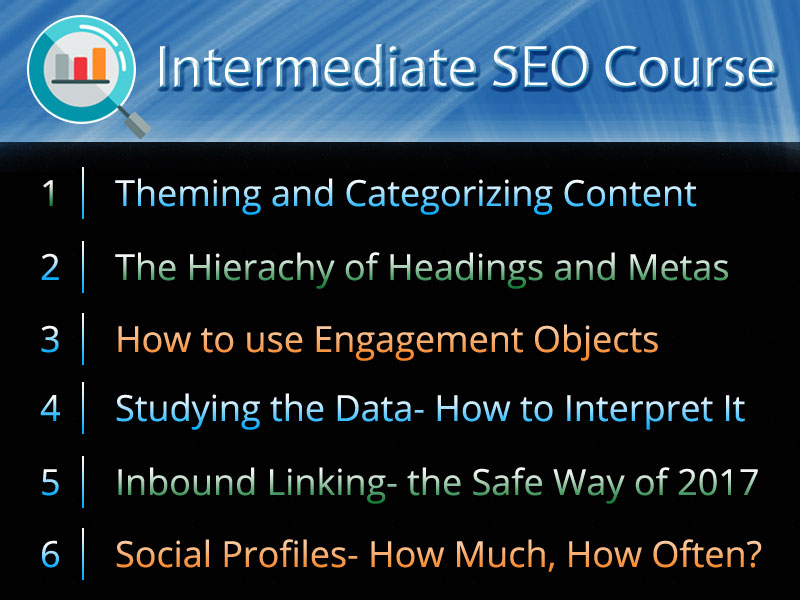 A mid-level training course for people who have grasped the basics and need to gain more traction with their search engine optimisation. How would you tell if you're up for this level training?
Take a look at this article which talks about SEO for meta page titles, and modifying core php files to achieve the correct output sequence.
If you would be comfortable making these changes to your own website, then it's quite likely you would have the skills required to work with the material taught in our intermediate class.
---
Advanced SEO Course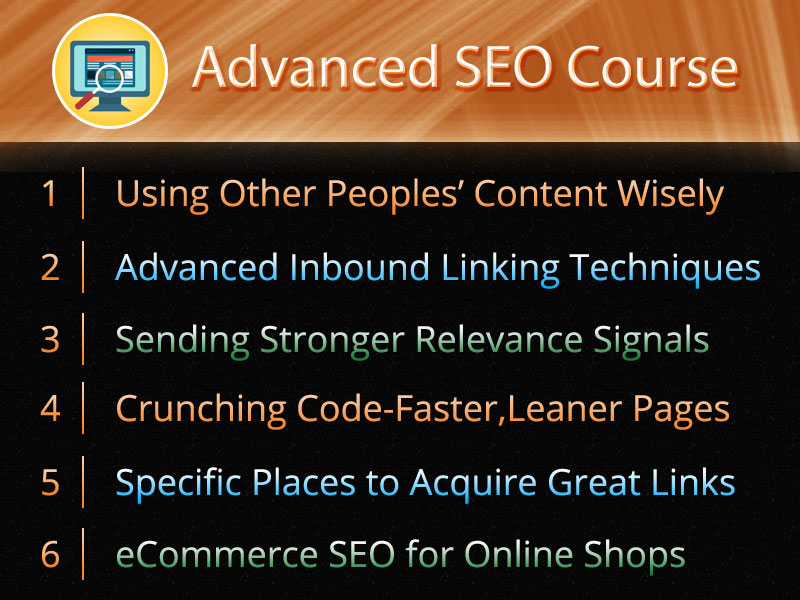 This one's for people who need to push their website to the next level of online visibility. Take your skills to new heights and focus on making your website earn the highest rank it's capable of.
Learn where all the best links come from which are specific to your industry. Have people generate marketable assets for you, and enjoy the rank that comes with becoming an authority in your industry. We'll tear apart a competitor's strategy and find the flaws in it.
Learn how to use other people's content without any fear or risk of repercussion from the webmaster or from Google. It can be done!
---
Key Take Aways From SEO Training
Here's what our training is built upon:
Our work as professional SEOs- successful campaign management across a variety of sectors
Safe, proven methods- not too much and not too little
Successfully avoiding penalties across all our managed domains
Seeing our managed domains rise in rank, after Penguin, Panda and Hummingbird
Watching our clients' businesses enjoy a higher level of revenue as a direct result of our work
Testing and measuring the effectiveness of these techniques on our own domains first
Staying updated with constant learning- keeping up with the latest SEO changes
With this essential knowledge, you will be able to make the changes to your web site which will have a positive impact on your presence in organic search.
You'll also get some one-on-one SEO consulting on the day of training, specific to a web site of your choice. This will have more relevance to you than a sample web site you've never seen before.
You'll have your own set of notes after the course, which you will be able to refer back to, every time you make changes to your web site.
Search engine optimisation happens on a constantly changing front. The rules change- the methods change and we have found that there are underpinning core principles of SEO which have remained the same, throughout all the updates and changes.
You'll find out what these are, and how to keep an accurate check that your web site doesn't ever cross the line and suffer a heavy loss in search engine rank. Our Melbourne SEO Courses and Training Workshops are the way forward to getting your website found online and ranked higher.
If you've had a look at our seo overview and feel that it's time to move forward, then we encourage you to contact us for more information, or to enroll.